Your Best Guide to Commercial Flood Damage Remediation Success in Wayne
1/26/2020 (Permalink)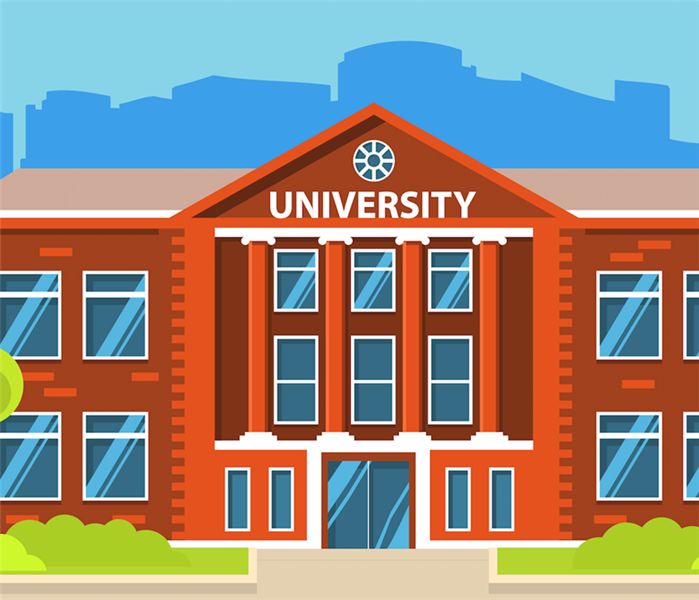 Flooding can quickly cause a mold infestation in your university setting. Contact SERVPRO to assess the situation and remediate the damage.
Steps for Managing Commercial Flood Damage in a Wayne University
When flooding happens in a university, taking the right actions when addressing the damage is vital for fast recovery. When the appropriate maintenance personnel and management learn about the incident, they should contact flood restoration experts.
The direct repercussion of commercial flood damage in a Wayne university is the destruction of the structures and the contents of affected buildings. As a result, the university must spend money on repairing or replacing ruined building materials and items. Apart from financial costs, affected buildings can be unsafe. Therefore, it may be necessary to suspend some classes or school functions.
Secondary destruction, like mold growth, may cause health effects to students and the faculty. Floodwaters may bring different debris into the institution of higher learning, including silt, mud, and sewage that not only look unsightly but could also cause unpleasant smells. The water and debris can also create trip, slip, and fall hazards in the institution.
The destruction of both paper and electronic records is another consequence of floodwater intrusion in a university. It can affect vital documents like academic transcripts and admission records. Our SERVPRO team can respond to the flood damage in your university promptly to prevent secondary destruction.
We can assess the facility to determine and address other risks resulting from the flooding incident like electrical hazards, injury risks from falling tiles, ceilings, or other objects, and dangers from ruined materials containing asbestos. Our crew can also determine the extent of the flood damage by inspecting the affected buildings thoroughly. Proper inspection is essential in cleanup and repair work because it helps restorers to trace ruined items and maintain appropriate records of the same.
Our technicians can begin the cleanup process quickly. To make the affected floors more accessible, we can move furniture and equipment to dry areas. We can place plastic sheets under the moved items to protect unaffected areas.
If there is sewage damage, we can perform immediate sewage removal. This is a delicate process because of the harmful microbes that could be present in it. Our team can clean affected hard and non-porous surfaces like walls and floors and then apply disinfectants to the surfaces to destroy bacteria, viruses, and fungi.
Our SERVPRO crew can also use drying equipment like air movers and low grain refrigerants to eliminate moisture from affected surfaces. We maintain a balanced drying system, which involves ensuring that the amount of moisture evaporating into the air does not exceed the amount of moisture that is being dehumidified from the air.
When flooding occurs in your learning institution, call SERVPRO of Wayne for efficient flood cleanup. Our emergency helpline is (973) 546-4977. We're Faster To Any Size Disaster.
Click here to learn more about Wayne.