What is the Quickest Way of Getting Water Out of Commercial Premises?
9/16/2020 (Permalink)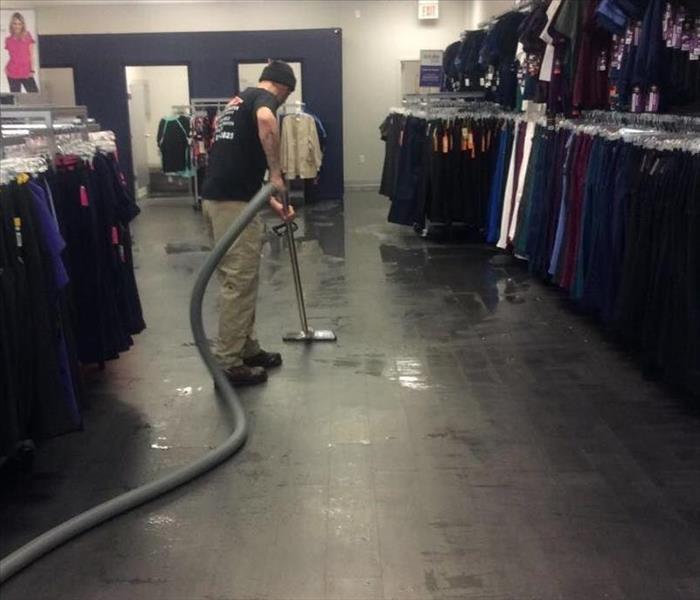 SERVPRO knows how quickly water damage can take over your Wayne business. Call us today, let us keep you up and moving.
Commercial Water Removal Requires Significant Resources and Equipment. SERVPRO Offers Wayne Businesses Professional Removal and Drying of Water Issues.
How long should I expect water removal to take?
We recognize that for Wayne, businesses expect a time-efficient restoration of their premises. Water leaks can lead to losses of revenue, especially for those leasing property for others to use. SERVPRO offers a commercial service that allows property managers to communicate directly with our crew chiefs throughout the service. We can provide you with informed information regarding the length of time we expect a water restoration to take. Equally, our technicians can work around the needs of your business. A space with an isolated area of water damage can allow you to keep your business running while working on the affected area. We can position warning signs and barriers to inform members of the staff of the situation.
What water removal services are available for commercial businesses?
- Arriving on-site within four hours of notification of loss
- Institute of inspection, cleaning, restoration and certifications (IICRC) qualified technicians
- Twenty-four-hour emergency call line
Is drying the structure important after water removal?
Wayne's commercial water removal service typically covers both the pumping out of the liquid and the drying procedure. Residual moisture can be very harmful to a structure, leading to mold growth, odor, or discoloration. SERVPRO technicians monitor a damaged area repeatedly to ensure that our methods are efficient and achieving the expected outcomes. It is not uncommon for crew chiefs to return every twelve to twenty-four hours to assess our drying procedure's effectiveness. We can also put in place more aggressive drying equipment if necessary, after job monitoring.
What equipment is used in water removal?
- Water pumps to remove standing water
- Truck-mounted or portable extractors for residual moisture
- Dehumidifiers and air-movers for the drying process
Professional and efficient drying time is essential for your business. Contact SERVPRO of Wayne at (973) 546-4977.