SERVPRO Equipment Salvages Mold Damaged Wayne Properties
9/30/2022 (Permalink)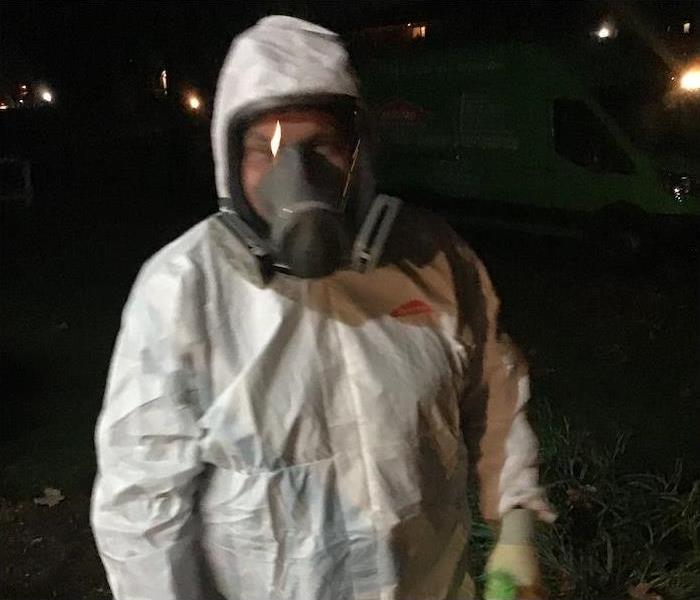 Mold colonies are not always visible. Do you know how to locate hidden mold in your Wayne home? SERVPRO does!
Performing 24/7 Mold Remediation in Wayne
Home mold damage is among the foremost issues tied to disasters around the country. Whether moisture comes in from plumbing failures, flooding, or fire suppression, mold can accelerate growth within 24 to 48 hours. These microbes can eat away at surfaces, provided there is enough moisture. It is often not safe for homeowners to tackle these disasters on their own because mold can negatively affect a property's structural integrity.
Wayne mold mitigation technicians at SERVPRO can implement mold control strategies 24/7 for property owners. Total mold removal is not achievable due to microbes existing on some level in any given indoor and outdoor space. However, SERVPRO can successfully reduce populations to pre-disaster levels and eliminate the conditions that enable further growth.
Controlling Humidity from Mold Exposure
One of the most crucial factors homeowners can take steps to control is humidity. While disasters can happen at any time, keeping moisture levels low and maintaining sufficient indoor air quality (IAQ) can go a long way toward minimizing mold spores. Relative humidity levels under 50 percent–and ideally under 40 percent–can keep spore growth to a minimum and preserve IAQ.
Try these tactics for keeping moisture levels below the levels necessary for accelerated mold growth:
Keep an eye on sources of moisture in the home, mainly showers, baths, humidifiers, and boiling water
Maintain bathroom and kitchen range exhaust fans to ensure that they are sufficient for pulling excess humidity out of their respective spaces
Have ductwork cleaned and inspected at least once a year, and change air filters every 2 to 3 months, or per manufacturer instructions
Consider installing or upgrading home dehumidification to keep the home dry
Bear in mind that excess dryness can also damage wood, drywall, and other surfaces. The key to adequate moisture control is not eliminating moisture. Instead, the goal is to maintain humidity levels so that contents and residents can exist comfortably in the home without worrying about excessive mold growth.
SERVPRO Tools Can Tackle And Contain Mold Damage
SERVPRO takes a comprehensive approach to mold control that includes moisture mitigation, sanitation, odor removal, and rebuilding services per the homeowner's insurance policy. SERVPRO also performs preliminary inspections, estimates, and plans to implement restoration efficiently.
Inspection tools include penetrating and non-penetrating moisture sensors and meters and thermal imaging cameras that can help isolate vulnerable areas for spore growth. Technicians can also perform necessary demolition services to remove spore clusters and debris.
Restoration tasks undertaken by SERVPRO professionals include the following:
Setting up sealed containment areas and drying chambers with sturdy polyethylene sheeting
Spraying and spot-treating surfaces with EPA-registered biocides
Drying excess moisture with extractors, centrifugal air movers, and low-grain refrigerant or desiccant dehumidifiers
Controlling local air pressure in sealed areas and collecting mold spores with HEPA-filter air scrubbers and vacuums
Controlling odors with sprayers, ultra-low volume foggers, scented granules, and other malodor removal tools
SERVPRO equipment and processes are designed to adhere to Institute of Inspection, Cleaning and Restoration Certification (IICRC) guidelines for the restoration industry while effectively remediating microbes, odors, and moisture.
When homeowners require restoration, they can count on SERVPRO of Wayne to make it "Like it never even happened." Call (973) 546-4977 for mitigation from a certified team of mitigation technicians.