What Can I Expect from Full-Service Fire Restoration in My Pompton Lakes Home?
7/27/2022 (Permalink)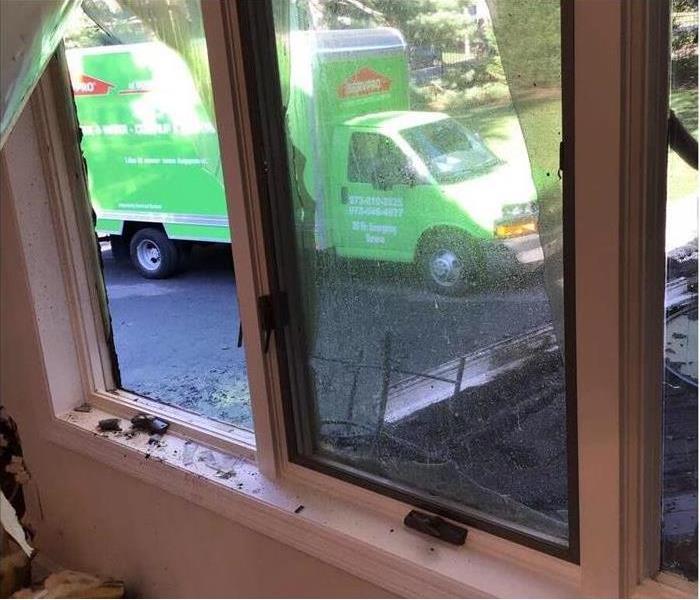 After a Pompton Lakes fire, homeowners love to see our SERVPRO Green Fleet on the Scene for Cleanup and Restoration
Keeping Property Owners Informed Every Step of the Way Is Crucial to How SERVPRO Completes Fire Restoration in Pompton Lakes
The property damage from a household fire in Pompton Lakes needs professional attention even if the blaze was extinguished quickly, and the harm seems minimal to your eyes. Fire damage residues move throughout your home and cause long-lasting damage and persistent deterioration if not removed fast. Restoration tasks can involve many different skilled disciplines, requiring the workers to have specific training and appropriate gear and equipment. The broad outlines of what fire damage restoration specialists manage are outlined below.
Why Is There So Much Water and What Should Be Done with It?
Although you used a chemical extinguisher to bring the flames under control, when the firefighters arrived, vast quantities of water joined the foam. Fire damage restoration in Pompton Lakes necessarily starts with water and extinguisher chemical containment and removal. Until the wet floors and collected pools of water exit the scene, other fire restoration measures cannot commence. The primary reason to bump water damage to the top of the work agenda is safety. Excess water can create many risks, including the following, which must be contained for the good of all you and your family and our workers:
Slip, trip, and fall hazards, including charred debris impossible to see beneath contaminated waters
Electric shock or electrocution
Illness or injury from contaminated water
Structural weakness and imminent collapse from water trapped over ceilings and in other building cavities
Weakening of wood and metal framing and other structural supports such as subfloors, stairs, and door and window frames
Disruption of hazardous building materials previously contained, such as asbestos and lead (usually on painted surfaces)
Mold growth and damage
Can We Skip Drying to Clean Up the Smoke Residues?
The answer is negative because the damage unresolved moisture does is equal to fire damage, including the risk of mold growth if drying delays more than 24 to 48 hours. The SERVPRO team is creative, however, using the water damage phase, including drying time to evaluate soot residues and do preliminary testing to ensure the cleaning products and tools. Methodology removes tough soot coatings efficiently and safely. We can also use containment with 1.6 mil polyethylene and air scrubbers to create smaller drying sections of the house's wet areas as we remove solid particulates from the air. Our crew sizes are scalable, allowing the project manager to assign technicians with certifications in different disciplines to different phases, steps, and tasks of the overall project. Drying in water-damaged spaces happens while soot removal proceeds in rooms of the house affected by soot drift but not water and its harm.
How Is Soot Residue Removal, Unlike Typical House Cleaning?
The compounds created when building materials heat and burn can be incredibly toxic and corrosive to the surfaces affected. Smoke can linger airborne for hours to days, impairing the air quality while workers try to remove residues and begin to address persistent odors. Our crews frequently must don extensive personal protective equipment (PPE), including respirators, masks, boots, gloves, suits, face shields, and more, to work safely in affected areas. Conventional cleaning products are inadequate to remove tightly adhered soot, particularly protein-based residues from kitchen fires. We review our IICRC strategies to match different types of soot and surfaces with cleaning products, tools, and methods. This ensures the cleaning is effective but does not damage the underlying surface.
What Is That Smell? How Are Odors Managed During Fire Damage Restoration?
One of the discouraging issues experienced as fire restoration draws to a close can be lingering odors from the smoke and soot. If deep cleaning and debris disposal do not eliminate all of the malodors, we have innovative equipment and protocols that can get rid of fire damage smells for good:
Thermal fogging -- heated deodorants disperse, recreating the fire conditions, pairing with odiferous particles to neutralize them.
Ozone machines -- oxidation eliminates odors while occupants and pets evacuate for a short time.
Hydroxyl generators -- created by UV light, hydroxyl radicals break down the molecular structure of odors and volatile organic compounds (VOCs)
Sealants prevent odors from being deeply absorbed into structural components from vaporizing.
Hire SERVPRO of Wayne with complete confidence for fire restoration. We are trained, experienced, and well-equipped, available today, tomorrow, and into the future for your concerns and questions at (973) 546-4977.