Who Can Help if I Suffer Water Damage from Frozen Pipes in Wayne?
1/10/2022 (Permalink)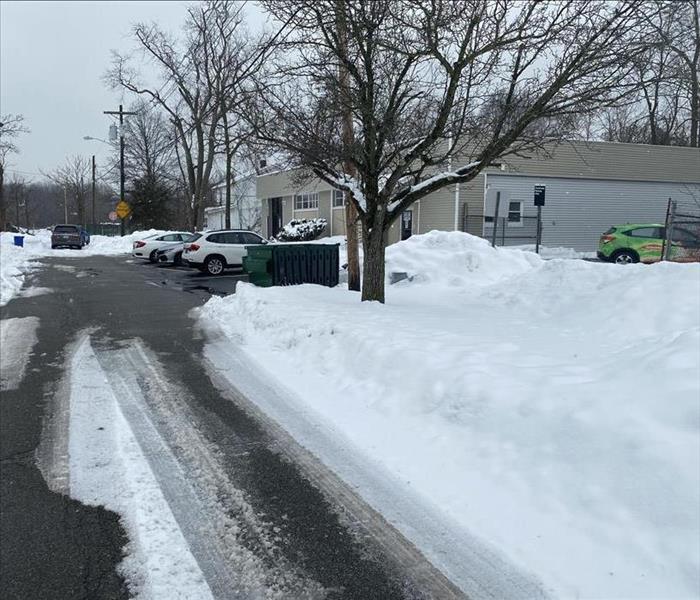 Protect your plumbing from frozen pipes in Wayne! SERVPRO says to follow the suggestions and reduce the chance of water damage
SERVPRO Is Available for Water Damage Repairs in Wayne During the Winter Months
During the winter in New Jersey, the temperature may drop well below freezing. Cold temperatures can create risks for your home, such as freezing pipes. During the winter months, the average low temperature in Wayne sits between 20- and 29-degrees Fahrenheit. However, in 2019, the temperature dropped to -1 degrees, which could happen again this winter.
Frozen pipes and ice damming in Wayne can both cause water to leak into your home. If pipes freeze and break, your house could get flooded. If an ice dam forms, moisture can leak from your ceiling to your floors.
Luckily, our SERVPRO technicians can provide fast 24/7 service when a disaster strikes. Our highly trained team can utilize the industry's most advanced technology to aid you in the following ways:
Emergency Services after a Water Leak
Water Extraction Procedures
Bathroom Mold Inspections
Attic Mold Inspections
Water Damage Repairs.
Fixing Leaking Roofs from Storms
However, sometimes the best way to prevent extensive damage is to put some effort into prevention. According to the Building Research Council at the University of Illinois, any time the temperature drops down to 20 degrees Fahrenheit or lower, your pipes are at risk of freezing. If water supply lines run close to your garage, it is wise to shut the doors and heat the area with a space heater. You can also open your kitchen and bathroom cabinet doors during cold nights to keep the plumbing warm.
If you know you will be out of town when it gets cold; you can leave your faucets running a little bit so that the water stays moving. It is also wise to set your thermostat at 55 degrees Fahrenheit at a minimum to prevent freezing. Even while in town, it is prudent to keep your thermostat set at the same temperature during the day and night.
If you notice a water leak during a cold night, call SERVPRO of Wayne at (973) 546-4977.